公司简介
福州润飞建筑节能材料有限公司是专业从事建筑节能墙体保温材料及相关产品的研制、开发、生产、销售、施工和服务的现代化企业。公司凭借自身的研发条件、技术力量及管理经验,同时引进美国先进技术,与国内建材科研机构-----中国建筑材料科学院、北京大学等机构进行了广泛的技术交流与合作,并结合我国气候特点按国家标准研发出了"润飞"牌聚合物、干粉、砂浆、墙体外加剂等系列产品。公司先后开发润飞AC微晶无机保温、微空超纤保温、胶粉聚苯颗粒保温、膨胀玻化微珠保温砂浆,膨胀聚苯板和挤塑板保温体系,该本系采用了专业的粘结技术和独特的防护结构,使整个保温层更加安全可靠、坚固耐用,集外墙保温隔热、防水、装饰功能于一体,可满足我国不同地域的节能需求。
公司推广的绿色保温系列产品,荣获了中国建筑装饰协会的会员荣誉证书及福建省建筑节能推广公司。公司拥有完善的质量保障体系,依托ISO-9001:2000质量体系建立了科学技术培训机构和企业管理秩序,在不断地市场开拓应用中捷报频传,创造了一项项优异的工程业绩。同时坚持"提供节能产品、增强顾客满意、提高员工素质"的经营方针,脚踏实地的为客户服务。
公司立足技术前沿,以"节能建筑、成就未来,为现代人类提供舒适环保·和谐人居"为目标,积极探索人类节能事业是润飞公司的发展理念。可持续发展,打造节约型社会途径,质量是企业之命,信誉是发展之根,创润飞品牌,树润飞新形象是公司员工的责任。为此,润飞员工正在不断学习、吸收国内外先进科技的建筑节能保温技术和理念,为建筑环保节能保温事业奉献应尽之力。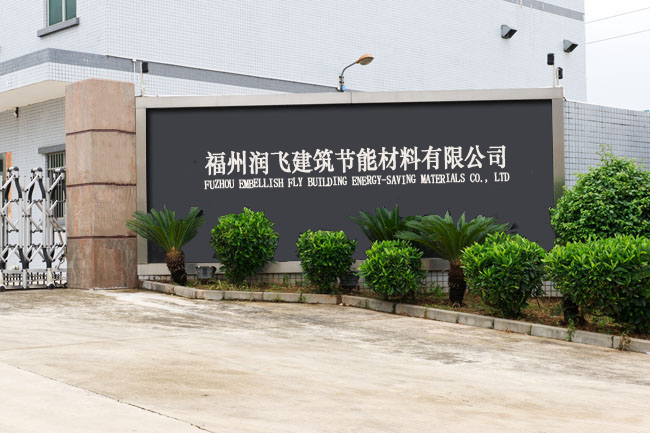 Fuzhou embellish fly building energy-saving materials co., LTD is a professional engaged in building energy-saving wall insulation materials and related products research, development, production, sales, construction and service of modern enterprise. Company relies on its own research and development condition, technology and management experience, introduce the advanced technology at the same time, with the domestic building materials research institutions -- - China building materials academy of sciences, Beijing university and other institutions for a broad range of technical exchanges and cooperation, and combining with the characteristics of the climate in our country are developed according to the national standards "embellish fly" brand polymer, dry powder, mortar, wall admixtures etc series products. Company has developed embellish fly AC microcrystal inorganic heat preservation, micro empty microfiber insulation, powder polystyrene particles insulation, expansion vitrified beads insulation mortar, expansion of polystyrene and extruded board insulation system, the department has adopted professional bonding technology and unique protective structure, make whole insulation layer is more safe and reliable, durable, collection of exterior wall thermal insulation, waterproof, decorative function, can meet the energy needs of different areas in our country.
Companies to promote green insulation series products, won the China building decoration association members honorary certificate and building energy efficiency promotion company in fujian province. The company has perfect quality assurance system, based on ISO - 9001:2000 quality system set up a scientific and technical training institutions and enterprises management order, good news, in constantly marketing applications created using good engineering results. At the same time, adhere to the "energy-saving products, enhance customer satisfaction, improve the quality of employees" the management policy, down-to-earth service for customers.
Company based on the technological frontier, with "energy-efficient buildings, achievements in the future, to provide modern human comfort, environmental protection, harmonious human settlement" as the goal, actively explore the human energy saving cause is embellish fly development philosophy of the company. Sustainable development and build a conservation-minded society, the quality is the life of enterprise, credit is the root of development, and embellish fly brand, tree embellish new image is the responsibility of the company's employees. To this end, embellish fly employees are constantly learning and absorbing advanced technology at home and abroad of building energy-saving insulation technology and concept, the cause of environmental protection and energy saving heat insulation of dedication to do.